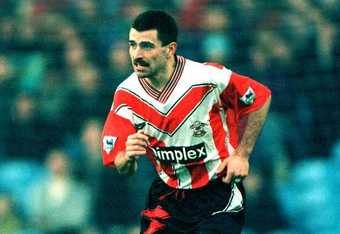 Every team has a
"water carrier"
. The phrase was made famous when
Eric Cantona
described French team mate
Didier Deschamps
. A water carrier, for those who don't know, is the player who does the insignificant—but extremely important—things on the pitch.
He makes little tackles, takes the easy pass, covers for others when they go forward. To the general public he doesn't do a lot. To the manager he's priceless. Every team needs a water carrier.
Francis Benali
was almost certainly one of the least gifted players ever to play top level football in England. He made his debut for
Southampton
in 1988 and went on to play 389 times for the Saints over 16 years.
Actually, in 1997 The Guardian newspaper questioned Benali's right to appear on the same pitch as Arsenal's Dennis Bergkamp, so you know where I'm coming from when I say Benali wasn't the most skillful of players.
But The Guardian missed the point in Benali entirely. In an age where gifted players act like primadonnas and where wages spiral out of control, Benali is a link to when players were not supreme athletes or were more important for shirt sales.
No, Benali represents ordinary players who got lucky, grabbed the bull by the horns and cherished that opportunity.
Benali is a legend at Southampton and revered by Saints fans for his 16 years he spent as a professional at his home town club. He has returned the love from his fans by playing through injuries—famously he played on with a broken arm—and for his good humour (check him out on YouTube).
Oh, and his casual violence.
Over his career he was involved in numerous dust-ups on the pitch and was famed for his "late" hard tackles. He received 11 red cards during his career, the most famous when he tackled West Ham's Paulo Futre so hard he knocked him over the advertising hoardings. He went straight down the tunnel without even waiting the ref!
Every club boasts a journeyman or a local cult hero, but few even come close to Benali. To show his love for Southampton, he refuses to set foot in Portsmouth, so dedicated is he to the Saint's cause. He even has a curry house in Southampton town centre that has become a mecca on match-day.
In 1997 Benali gave his fans what they had wanted to see for years. He scored the only goal of his career. A lucky looping header against Leicester that sent the crowd wild with celebration. You'd think Southampton had just won the World Cup and Champions League combined.
During Benali's long career as left back at Southampton, many more skillful players were brought in as replacements. But none could match his tenacity and determination and he saw them all off.
But that was to end in 2000 when Wayne Bridge graduated from Southampton's academy and went on to become a fixture in the team over the next three seasons, not missing a game.
While out of the team he was offered a free transfer by Gordon Strachan as there was great interest in his services from teams in the Championship. But Benali couldn't bear to leave his home club and chose to soldier on.
He eventually made it back into the side in 2003 and was instrumental in getting Southampton to the FA Cup final. Where, although he didn't play, he received a runners up medal after the Saints were beaten by Arsenal, 1-0.
Benali's final appearance for Southampton came in 2004 against Bayern Munich in a friendly.
The FA Cup runners up medal was the only medal Benali won during his 16-year career.
He scored some outrageous own goals, received red cards when a prison sentence would have been fairer, fought with opponents and team mates alike on the pitch, and scored just once.
But to Southampton fans he'll always be their legend.
He makes good curry too.