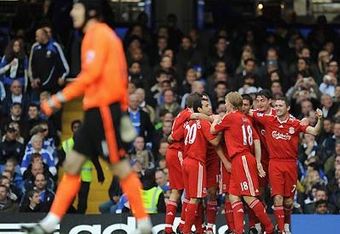 Records are made to be broken.
Chelsea's
proud home record of 86 games unbeaten at
Stamford Bridge
was always going to fall one day. That it was
Liverpool
who ended this run is significant, as
Rafael Benitez's
charges have finally confirmed they are ready to challenge the elite of English football.
Chelsea went down to Xabi Alonso's solitary deflected effort to end Chelsea's home run and in doing so Liverpool are now the only unbeaten side in the league. So far this season they've accumulated an impressive 23 points from 27 points available, and this looks like the season that Liverpool fans have been waiting for, after 19 years of being also-ran's.
The fact that Liverpool's winner was a deflection that gave Petr Cech no chance should not impress upon you that Liverpool were lucky. Far from it, they dictated the match from start to finish and while Chelsea enjoyed the majority of possession it was Liverpool who had all the best chances.
The game was always going to be a tight affair and Chelsea had the proverbial nightmare start as Liverpool took an early lead. After racing out of the blocks with some scintillating football Chelsea were rocked as Alonso's shot took a deflection off Bosingwa and left Cech with no chance.
Chelsea were forced to chase a game for the first time this season, and after destroying Middlesbrough last week Liverpool would provide a much tougher opponent to break down. As predicted, Benitez packed midfield and pushed their full backs on to limit the space for Chelsea's marauding full backs.
With Liverpool employing this tactic Chelsea seemed stumped, they created very little and without Drogba up front they didn't have a plan-b.Carragher marked Anelka out of the game and Chelsea continued to struggle to create anything of any substance for the rest of the half despite dominating possession and could have found themselves two down only for Cech to deny Gerrard with a superb save from a Gerrard special.
Mascherano and Alonso were superb in midfield, providing an extra line of defence for Pepe Reina that Deco and Lampard struggled to penetrate. Despite this Deco almost got an equaliser when he dispossessed Gerrard but he fired wide, not even making Reina work.
By half time Liverpool were out-punching the more skillful Chelsea. Chelsea seemed devoid of ideas and the break couldn't come quick enough as Scolari needed to get some impetus into his struggling side.
No changes at half time meant the two sides would line out the same way for the second half. And with Gerrard enjoying his role supporting the workaholic Keane, Liverpool continued to create the better chances.
As many had talked about the Gerrard / Mikel battle in midfield would be instrumental in how the match would progress. And the young Nigerian looked over-awed as Gerrard bossed him around, and with it Chelsea's chances of dominating midfield.
Chelsea again started the half quickly as Deco played a superb through ball to Florent Malouda, with the defence split he was clean through with only Reina to beat but the linesman had deemed him marginally offside. It would be his last contribution as Scolari wielded the axe as Chelsea chased the game.
Youngster Franco De Santo would come on to replace Malouda and Belletti replacing Kalou as Scolari tried to breathe some life back into his strangled side. No sooner had Chelsea tried to get going again and Liverpool once again squeezed the life out of them.
On 60 Liverpool won a free kick just outside the 18yrd box, and as Cech set the wall he surprisingly chose to stand behind it leaving a huge gap to his left.And with a player of Alonso's pin point passing ability on the pitch this was a big gamble for the Chelsea stopper to take. But luck smiled on Chelsea on this occasion as Alonso's superb free kick thundered off the base of the post with Cech rooted to the spot.
After weathering an early storm Liverpool were now dominant throughout. Only De Santo showed any penetration as Jamie Carragher's supreme performance at the heart of the Liverpool defence snuffed out all of Chelsea's half chances.
To prove the point Chelsea's best chance of the match fell to Ashley Cole with 15 minutes left on the clock. The ex-Arsenal man suffering a rush of blood to the head as he snatched the ball wide after it was brilliantly laid off by Di Santo from a Lampard cross.
For the remainder of the half Cole walked a fine line as discipline appeared to have left him. And he was lucky to remain on the pitch after he clattered into Arbeloa from behind when on a yellow card.
Coming to the end Deco and Babel traded shots but Chelsea were never going to deny Liverpool this memorable victory.
It was Benitez's first away victory against one of the top four and in doing so Liverpool ended the most formidable home record in English football. And with Liverpool the only unbeaten side left in the Premiership they have finally announced their arrival as real contenders for the title.
Title Odds-
Chelsea 10/11
Man Utd 2/1
Liverpool 4/1
Arsenal 9/1